Anthony Ianni
Anthony Ianni is the head coach for our All Star Hoops Camp. He is also one of the most sought after anti-bullying motivational speakers in the region.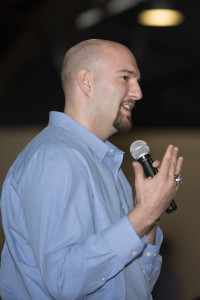 At the age of 4 Anthony was diagnosed with Pervasive Developmental Disorder (PDD), a disorder which falls on the Autism Spectrum (ASD). Doctors and specialists told Anthony's parents that he would barely graduate from high school, never graduate from college, never have a shot at being an athlete, and likely live in a group institution with other Autistic kids for his adult life. His family was devastated but pledged they would help Anthony be successful no matter what.
And he is. Despite bullies, adversity and numerous personal challenges Anthony worked hard and never gave up. Not only did he earn his Bachelor's Degree from Michigan State University in Sociology, he is the first known athlete with autism to play Big 10 basketball.  Anthony played for legendary coach Tom Izzo while at MSU, winning two Big Ten Championships, a Big Ten Tournament Title, making a Final Four appearance in 2010, and was the recipient of the 2011 Tim Bograkos Walk On Award and the 2012 Unsung Player Award. Anthony has pledged his life and career to help those who face similar challenges. Speaking for a second year for Kids on the Go, he is an inspiration to all of us and reminds us to "LYD"- Live Your Dreams.