Kids On The Go
Traverse City
Kids On The Go is a Michigan based pediatric non-profit program designed to provide special needs children (3-17 years) with physical, occupational and speech therapy during the summer months. In 2019, Kids on the Go collaborated with local therapists and community members in Traverse City to create a new camp program in a great new location.
The mission of Kids On The Go….. is to recognize and facilitate the goals of children with special needs and to further develop their current skills through therapeutic and wellness programs for the children and their families.
Our vision….. is to provide a safe environment that will foster opportunities for growth, inclusion and provides valuable resources for our community.
OUR CAMP PROGRAM:
Kids on the Go Multidisciplinary Camp, Traverse City
As we creatively adapt to these unique times, we will be providing our 2020 Traverse City Camp program exclusively online. Our free virtual therapy camp will take place on Wednesdays at 10 am on a secure Zoom platform, beginning on June 24th and ending on July 29th (6 weeks). Camp will be led by professional pediatric therapists and will feature fun weekly themes and designated time for speech therapy, gross motor, fine motor, and social skills. Following our weekly camp activities, we will be providing opportunities for parent support and discussion.
Kids on the Go is a pediatric therapy program designed to provide children with special needs with physical, occupational, and speech therapy. Weekly themes incorporated to make this camp fun and therapeutic.
Program Registration and Scholarship Information:
The waiting list for the summer program begins every year on January 1st of the calendar year. Scholarships are typically awarded sometime in May when we have reached our fundraising goal. You will be contacted in late April or early May prior to the summer program.
To download a Kids On The Go 2020 Camp Catalog, for all locations click HERE!
Applications for 2020 Camps Are Now Open!
Program Registration and Scholarship Information: To begin, please review the following information and then begin the application process by visiting the link below to create (or update) your profile and submit an application to the 2020 Camper Waitlist. All complete applications will be reviewed and notifications of Scholarship Awards will be sent by email by the first week of May.
Please note: an online application does not guarantee placement. Incomplete applications will delay the scholarship application process. All required paperwork and forms must also be received to participate in Kids On The Go.Once an offer of a Scholarship is offered, you will be asked to respond to accept or decline the offer. Upon receipt of the scholarship acceptance, an email to confirm your Camper's placement will be sent within seven days.
Please note: The online application on CampDoc is not mobile friendly. Please use a laptop or desktop computer to complete all sections of the application thoroughly.
Click here for CampDoc application.
Donate to Kids On The Go in Traverse City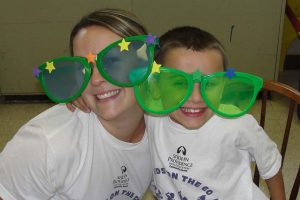 This donation goes to the NEW  Kids On The Go Camp in Traverse City!
We could not be more excited and hopeful for the future of Kids On The Go as we expand our services to Traverse City, Michigan. None of this could be done without the generous and continued support from YOU. Please join us to help build our new Traverse City program. Your tax deductible donation will have a lasting impact. It will strengthen the community and expand available health care resources by supporting local families and making a difference in a child's life.
Please consider supporting Kids On The Go Traverse City by filling out the donation form below. Your support is crucial for our efforts to be successful. We thank you with all our hearts for your donation that goes toward helping a child in your local community. There's no greater feeling than knowing you truly helped a child to succeed!
Thank You!
STAFF: Join our team! 
2020 Staff and Volunteer Apply HERE
If you are looking for an extremely rewarding employment opportunity to contribute to the developmental progress of children in the Grand Traverse Bay Region, and would like to work in a team setting to help make a difference, please contact Natalie Ramsey at 989-513-0890 or email nramsey@kidsonthegocamp.com.
Kids on the Go Traverse City Staff
Shelby was born and raised in Laingsburg, MI, and currently resides in Traverse City. She is a Central Michigan University alumni and she recently received her Master's degree in Speech-Language Pathology. Shelby loves travelling, spending time with family...
read more
Kids On The Go Camp Traverse City is only possible through
the generous donations of the following sponsors 
Kids On The Go Traverse City Advisory Board
Kathy is a healthcare executive with expertise in strategic planning, healthcare operations, physician contracting, service line development, financial analysis and budgeting. She earned a Bachelor of Science degree in Occupational Therapy from Wayne State...
read more
Lisa Marie Miller earned a Bachelor of Science degree from Augusta University in 2012. Eschewing her educational background in life sciences, Lisa has pursued a career focused on team organization, client collaboration, and outdoor recreation. She...
read more
Paul C. Zimmer is the Chairman of the Board of Allied Printing Company, Inc., in Ferndale, Michigan.Founded in 1952, Allied Printing Co. helps organizations meet their marketing, communications and branding needs through commercial print, data-driven...
read more
Dr. Ramsey earned a Bachelor of Science degree from Michigan State University in 2007, and went on to earn her Doctorate of Physical Therapy degree at Central Michigan University in 2010. She has extensive experience providing physical therapy services at...
read more