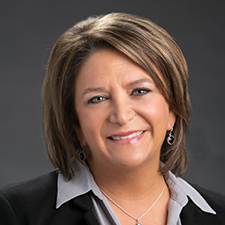 With more than 20 years of clinical and supervisory experience in the field of speech-language pathology, Mrs. Schena has improved the lives of many people. Throughout her career, she
has been the recipient of various awards, has been published and has been active in a variety of professional associations. Her organization of the non-profit Kids On The Go summer camp
has changed and enhanced the opportunities for pediatric patients in the Detroit metro area. The camp has grown exponentially over the years. In 1999, one course was offered and 13 scholarships were granted. In 2017, 28 courses were offered and more than 300 scholarships were awarded. Additionally, the camp served children ages 3-14 until 2017, when the range was
extended to 17 years. In total, Mrs. Schena's efforts with Kids On The Go has impacted the lives of more than 2,000 scholarship recipients. Developing new programs to benefit patients is
something Mrs. Schena began much earlier in her career at BiCounty Hospital, where she helped developed two transdisciplinary programs to help improve independence and quality of life for patients recovering from laryngectomy surgery.
PROFESSIONAL EXPERIENCE
Since 1998, Mrs. Schena has been working passionately to assist the pediatric special needs population with the needs-based summer camp Kids On The Go through fundraising events, marketing, communications, networking and managing the day-to-day operations. Additionally, Mrs. Schena has always welcomed students of various specialties to volunteer at the camp—providing them much needed clinical observation hours as well as supervised exposure and experience with the pediatric population they are intending to work with upon graduation. She has applied her clinical experience and expertise with her networking and management abilities to create and sustain a camp that is of no cost to the families while also providing
services during the summer months when many would otherwise not receive their much-needed speech/occupational/physical therapies.
For more than 17 years, Mrs. Schena used her clinical skills as a speech-language pathologist at an otolaryngologist's private practice performing videostroboscopy, for which she has additional certification. She began working with Dr. Michael Sherbin in 2000.
As a staff therapist at Beaumont Grosse Pointe, Mrs. Schena provided therapy for acute care and outpatient clients from 2004-2011. Prior, she provided similar services for patients at St. John Oakland Hospital/ Lakeshore Communications Disorders from 2001-2004.
During her tenure as the Director of Speech-Language Pathology for Acute Care, Pediatric and Outpatient Services at Bi-County Hospital, Mrs. Schena helped developed the Laryngectomy Recovery Program & the Transdisciplinary Ventilator Team.
RECOGNITIONS
In 2018, Mrs. Schena was honored with an Outstanding Alumnae Award by Michigan State University Communication Arts & Sciences Department.
In 2016, Mrs. Schena became a member of the International Women's Day Mom-to-Mom Conference in conjunction with Michigan State University, Kodomo Center for Autism in Playa del Carmen, Mexico, and Kids On The Go.
In 2016, Mrs. Schena was also published in the American Speech-Language-Hearing Association Publication, the ASHA Leader: Spirited Solutions.
Additionally, she was:
• featured in The Grosse Pointe News as its "Pointer of Interest"